We work with leading organisations to develop dynamic solutions.
Our code solution pages contains a wide range examples, each one demonstrating aspects of dynamic behaviour that you can achieve in Adobe's Digital Enterprise Platform (ADEP) Designer.
We welcome feedback from visitors, so please take a minute to complete our feedback form here.
Adobe Solution Partners
We are Solution Partners with Adobe, having worked with Adobe Digital Enterprise Platform (previously Adobe LiveCycle ES2) and Adobe Flex/Flash Builder for many years.




Customer Experience Professionals Association
Niall O'Donovan is a founding individual member of the Customer Experience Professionals Association (CXPA).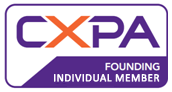 Turnkey Solutions
We can provide turnkey solutions, where we design and develop forms and online systems to meet your requirements.

We Can Help You
If you have started a solution but need assistance to finish it, we are here to help you. We can advise on the layout of the solution, as well as develop advanced JavaScript.